Sisters of Ashram
All the activities of the Sarada Ashram, Ulundurpet are managed with love and prayers by a team of highly skilled and dedicated Sanyasin Sisters. The Holy Mother Sri Sarada Devi was known for her simple and loving nature, and her life is seen as the spiritual ideal model for Indian women. The Sisters of the Ashram have taken to represent this ideal in their life and work.
The Sisters of the Ashram come from different backgrounds and hail from different parts of Tamilnadu. They are highly qualified - the team consists of eight engineers, one doctorate and many qualified post-graduates. When the resident school was in need of a good physical trainer, one Sister enrolled for the course and got herself qualified as a Physical Education Instructor. Many of the Sisters have held high positions in the Government, banks and private companies before they were drawn to the Order in their quest for spiritual development through service to human beings.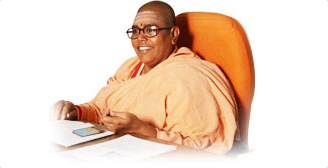 "Amma Veedu" (Mother's house) is how the Ashram is referred to by devotees, visitors and parents of the students. The Sisters shower their care and love on each and every visitor and take care to ensure the smallest of their comforts is met with. The Sisters are addressed to as "Maaji" or mother by the students, parents, villagers and visitors.
Under the loving and spirited leadership of Yatiswari Ramakrishnapriya Amba, the President of Sri Sarada Ashram, a team of 45 well-educated Sanyasin sisters have dedicated their whole life leaving their kith and kin by undertaking sacred penance and sacrificing their all, devoting their whole heart and soul for doing service to the mankind through selfless and committed monastic life.
By absolute hard work and incessant efforts the dedicated sisters are doing excellent work in the areas of education, medicine, agriculture, culture and socio-economic activities for the rural poor and downtrodden. Vivekananda Sevapratishtan is the service wing which functions tirelessly with a noble mission and foresighted vision for the upliftment of the rural masses.